Welcome to Diving world
Bunn's Diving Institute Ltd. was found in 1958 by the Liu Brothers. In the beginning, it was
a tiny workshop producing diving equipment and wetsuits. After 50 years endeavor, now we
are one of the leading and prestigious diving pro shops, majority in selling diving and water
sport equipments, ready and custom made wetsuits as well as teaching different levels of diving
classes.

Our Shop's Location
Our shop is centrally located in Wanchai business area. We are only 2 minutes walking
distance from the Wanchai MTR Station.

Our Employees
Our salesman are either well experienced divers or instructors. With good knowledge in
handling diving equipments, we can recommend customers to choose the right gears and are ready to answer questions on diving technology.

Our Products
We sell diving and water sports gear from top brand names all over the world. We specialize
in custom made wetsuit, dry suit and swimming ware.

Our Service & Diving Courses
We do maintenance, checking and repairs on diving equipments and air tank refill as well. We rent diving equipments. We operate all levels of diving classes.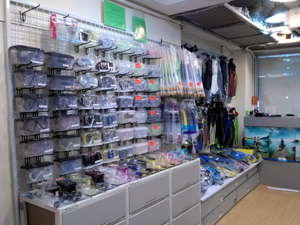 Copyright © 2012 MEGURO.All rights reserved